Knowledge is power
The Future Of Possible
Hibs and Ross County fans on final
Tip of the day: That man again
Hibs and Ross County fans on final
Spieth in danger of missing cut
WALKING ALONE INTO THE NATURE
These treks are characterized by a net of trekking routes and peaks with a lower level of attendance. Therefore, the natural presence surrounding these areas are becoming more relevant, and the hiking can be very adventurous.
See Rules for visitors
For more information see Occasional Treks section on Management Plan for CKNP Integration document.
Services: The main trails are tracked but there are no services, simple spaces for camping are present and water is available.
Rules: Along these treks, camp is permitted only in the designated not equipped areas. Regarding energy supply systems, it is required to prefer environmentally friendly energy supply systems, generators are not permitted.
Follow the itineraries on the Map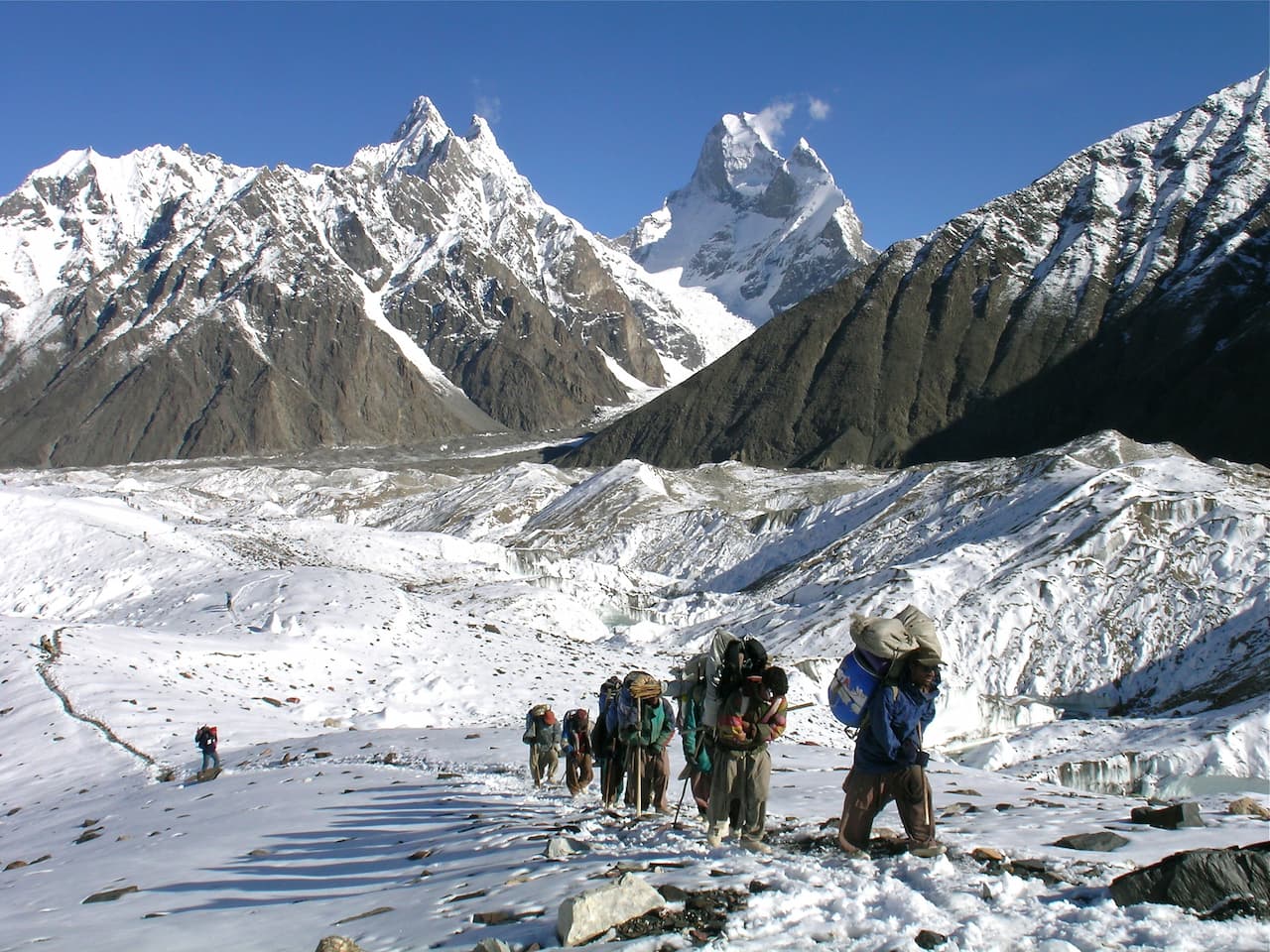 38 LUKPO LA
Joula camp – Chotkal glacier – Latok Base Camp – Sim la – Sim glacier – Lukpo La – Braldo glacier – Shimshal
Duration: 10 days Campsite and w.m. fee 40 $
39 KHURDOPIN LA
Snow lake – Khurdopin la – Khurdopin Glacier – Shimshal
Duration: 06 days Campsite and w.m. fee 40 $
40 KERO LUNGMA LA
Arando – Kero Lungma la – Kero Lungma glacier – Haigatum glacier – Hisper
Duration: 10 days Campsite and w.m. fee 40 $
41 GOROPHA LA
Stak – Goropha glacier – Goropha La – West Marpho Glacier – Ghogo
Duration: 08 days Campsite and w.m. fee 40 $
42 HOLTER TOP
Gooro Juglot – Barti – Darchit – Holter Kam – Khai – Rahimabad OR vice versa
Jaglot Valley Trek
Duration: 10 days Campsite and w.m. fee 10 $
43 SUMAYAR – PHEKAR
Sumayar – Chabaran – Uskoo Dadar – Phekar OR Vice versa
Duration: 10 days Campsite and w.m. fee 20 $
44 SUMAYAR – MINAPIN
Sumayar – Silkiang – Gieng tur – Kachaili – Minapin
Duration: 05 days Campsite and w.m. fee 20 $
45 YAZGIL LA
Hisper – Hisper glacier – Kunyang Glacier – Yazgil La – Yazgil Glacier
Duration: 10 days Campsite and w.m. fee 40 $
46 HIKIMUL LA and PEAK
Bisil – Hikimul la – Tsibu glacier – Hoo
Duration: 10 days Campsite and w.m. fee 30$
47 ARANDU – TORMIK
Arandu – Niamur – Chutran – Turmik Duration: 06 days Campsite and w.m. fee 20 $
Basha Valley
48 DASSU – CHUTRUN
Dassu – Tiston – Simbi la – Thorgo – Chutrun
Duration: 03 days Campsite and w.m. fee 20 $
49 WEST MUSTAGH PASS
Askole – Joula – Pangma glacier – Chiring glacier – West Mustagh pass (and back)
Duration: 08 days Campsite and w.m. fee 40 $