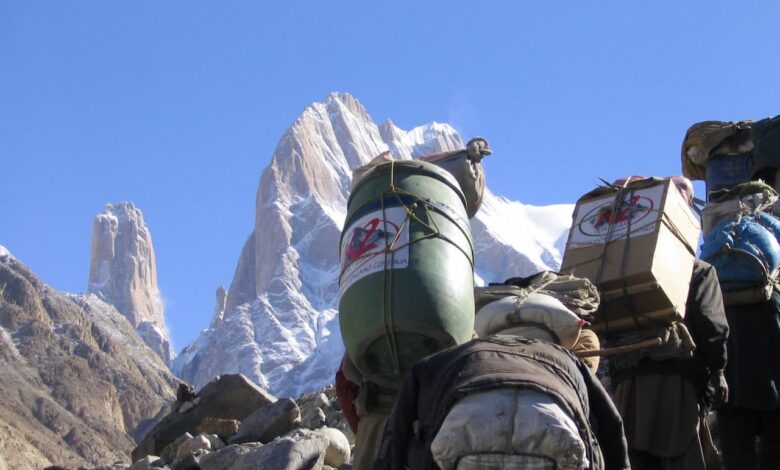 Keep Karakoram Clean a cleaning campaign between earth and sky. SInce 2006 30 tons of waste collected
Keep Karakoram Clean is one of the most useful and successful campaigns of the area. The initiative is not only a cleaning campaign, but also a campaign of raising awareness to reach expeditors and the local populations with themes such as the importance of environmental protection and of separate refuse collection.
The first cleaning campaign (2006) was addressed to K2 base camp and the Gasherbrum II one: more than three tons of waste were collected. Three years later it was time for the second mission, aimed to clean up Baltoro Glacier and K2 base camp, where have been collected eight tons of rubbish and the team also built an ecological platform for organic waste at 4.700 mt., at the junction among Baltoro, Abruzzi and Godwin-Austen glaciers, an area called Circo Concordia.
Baltoro Glacier together with K2 high camps, has been the target of the third campaign, that reached 7300 mt. and collected 13 tons of trashes, 2,800 kilos of which were human waste. In summer 2011 the height reached by the cleaning initiative has been above 7,800 mt., corresponding to Gasherbrum camp 4. On that mount and on Baltoro more than 8 tons of waste were collected.

The cleaning staff of the project is entirely made by locals, that every year chooses new porters, coming from different regions of Pakistan, in order to make them ambassadors of an environmental conservation culture in their own areas.
After years of activities we can consider some results: starting from the 30 tons of waste collected, to the 20 toilettes installed in Baltoro area, to avoid human waste around. Every year more than 6000 people -between local staff and tourists visit the glacier, plus 700 mountaineers and trekkers. More than 130 the guides professionally trained and beyond them, there are also 60 porter, who have followed training courses.